Jonathan Franzen, Louise Erdrich, et al. in the new Paris Review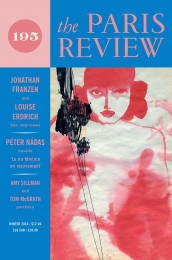 INTERVIEW ~
The Art of Fiction No. 207, Jonathan Franzen
"When I was younger, the main struggle was to be a 'good writer.' Now I more

or less take my writing abilities for granted, although this doesn't mean I always write well."

FICTION ~ Le nu féminin en mouvement by Péter Nádas
"If the taxi hadn't swerved a second time, in their embarrassment they probably would have leaned back on the seat and continued their chatter in an entirely different direction..."

INTERVIEW ~ The Art of Fiction No. 208, Louise Erdrich
"Driving takes hold of the left brain and then the right brain is freed—that's what some writer friends and I have theorized. But I can't always stop when I get an idea. It depends on the road—North Dakota, no traffic. When I'm driving on a very empty stretch of road I do write with one hand. It's hardly legible, but still, you don't want to have to stop every time."

PORTFOLIO ~ Amy Sillman and Tom McGrath. Curated by David Salle:
"Amy has the most assertive and surprising sense of color of any painter working today; it gives her paintings buoyancy and also contributes to their humor."

POETRY ~ Smalltown Lift by Brian Blanchfield: "In here/ we have to tell each other one true thing. You first."

ALSO IN THE MAGAZINE
Short stories from Alexandra Kleeman and Claire Vaye Watkins. A selection of portraits and landscapes by Saul Steinberg. Poems by Jim Moore, Albert Goldbarth, Devin Johnston, Dana Levin, Maureen N. McLane, Damion Searls, and Matthew Thorburn. And Peter Matthiessen, Elisabeth Sifton, and Rose Styron remember Thomas Guinzburg.