Poster poems: Dates
from
Books: Poetry | guardian.co.uk
Get your diaries out, as this month's challenge is the peculiar sub-genre of specifically dated poems
I was reading Yeats's great poem "
Easter, 1916
" recently, when the thought occurred to me that, on top of all its other, more obvious, virtues, it belongs to an odd sub-genre: poems that include specific dates in their titles.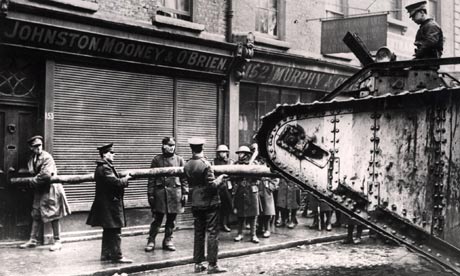 A British tank batters down a door in house-to-house searches during the Easter Rebellion of 1916.
Photograph: Popperfoto/Getty
OK, maybe calling Easter a specific date is pushing it a bit, but for many Irish people Easter, 1916 evokes a precise and, however one feels about the outcome of that failed uprising, significant moment in the history of the island. The poem is, I suppose, a meditation on that place where the personal and public planes of existence intersect; Yeats reflects on the 1916 leaders not just as figures from history, but also as people of his, sometimes intimate, acquaintance.
Great events seem a reasonably obvious subject for date poems, and Yeats is far from being the only poet to approach them by linking the public and private spheres. One well-known poem that seems to me to be uncannily close to Easter, 1916 is Auden's "
September 1, 1939
".
Of course, the significance of a date can be purely personal, and few are of more significance to the average individual than their birthday. Byron's "
January 22nd, Missolonghi
" is, I think, a particularly fine example of the sub-sub genre of poet's-own-birthday poem, but even here external events in the poet's beloved Greece intrude. More narrowly personal are those poems that have the appearance of a kind of diary entry. It's a mode that seems to have suited Anne Bradstreet particularly well in poems like her "
In Reference to her Children, 23 June 1659
" and "
Verses upon the Burning of our House, July 10th, 1666
".
Here the significance of the date is rooted in the private experience of the poet, although it becomes readily transparent to the reader. The same could be said of Denise Levertov's "
To RD, March 4th 1988
", an elegy to the poet Robert Duncan; dates of death being second only to birthdays for personal significance.
Other date titles apparently refer to the composition of the poem. Wordsworth's sonnet "
Composed upon Westminster Bridge, September 3, 1802
" is one such. However, poets are slippery creatures and not to be trusted, and it is quite likely that the poem was not written there and then, but is, in fact, an example of "emotion recollected in tranquillity". Jack Spicer's jazzy "
A Poem For Dada Day At The Place April 1, 1958
" is a more likely contender for an improvised, written-on-that-date poem, but you just never can tell.
Sometimes the significance of the date is so obscure that you just have to take it at face value that, say, Wendell Berry heard those things on "
October 10
" or that Ezra Pound was mistaken at "
Pagani's, November 8
". Well, I'm prepared to accept not knowing once the poem is good.
So,
this month's challenge is to write a poem with a date in the title
. It can be a great date from history or an obscure date from your personal life. It can even be something at the intersection of those two possibilities; the important thing is to make it interesting for the rest of us. What's keeping you? Time flies ...