Due to an unexpected but welcome turn of events, this plog may be going where few if any plogs have gone before. The connection was language but not poetry related.

Perhaps a little context will help.
I teach ESL online as a volunteer and mentioned the plog to a colleague, an American living and teaching in Italy. She immediately thought of her friend Giada who organizes an annual international poetry event in Calabria. We connected, and now it seems that Poets & Writers Picnic will be collaborating with Angoli Corsari on Verso Sud.
... How's that for serendipity?

Who says you have to be Santa Fe to go global?
Here's Giada's letter:
Vanessa,
I'm so glad to hear from you.. Well, I created an association, called "Angoli Corsari" (in English something like "privateer corners") to create an international poetic family around the world through events that put poets in contact with each and of course with the public.
We organized a lot of poetic readings, in which the artists read (with music if they want) in their original language while there's the projection of the translated lines. "Verso sud" is our most ambitious project and it's an international poetry festival.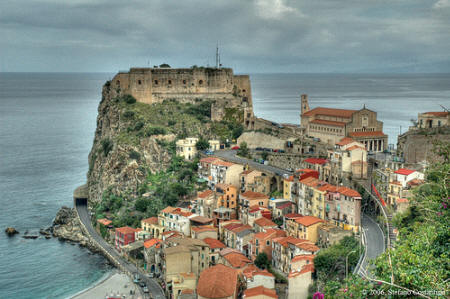 I'm working now to raise funds for the second edition of it which should be next June. Last year it was a huge success with 20 poets from different countries (from Us to Chile, from Bosnia to Iraq and so on) and it took place in Reggio Calabria (in South Italy) where I live, in a square outside a medieval castle. Inside the castle there were photography shows and meetings throughout the day, along with spontaneous performances..
I'm poetry-addicted and my first love was Lawrence Ferlingehtti, of whom I'm a official-non accademic-subjective beat-biographer (that's his definition) and translator here in Italy. I've just published a book called "Io sono come Omero" which is this very unusual choral biography of Lawrence...
So let me know what you think of all this and, if you'd like to, bring proposals and let's try to see if we can enlarge this family much more.
Love and poetry,
Giada