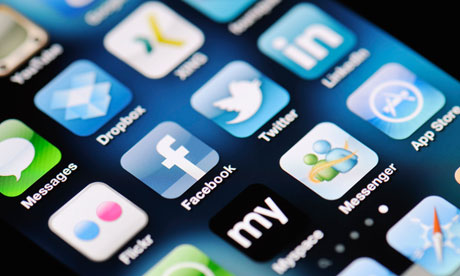 In the third in a Guardian Books series of essays on digital media and publishing, Ewan Morrison, Edinburgh World Writers' Conference, claims that as the project to monetise social media falters the self-epublishing industry's defects will be laid bare. Plus heated comments.
"Authors – become a success through building an 'internet platform'!". For almost five years we've been subjected to the same message.... I'm convinced that epublishing is another tech bubble, and that it will burst within the next 18 months. The reason is this: epublishing is inextricably tied to the structures of social media marketing and the myth that social media functions as a way of selling products. It doesn't, and we're just starting to get the true stats on that. When social media marketing collapses it will destroy the platform that the dream of a self-epublishing industry was based upon.
After discussing what social media does for authors and sales ~ and detailing how for different social media from Twitter and Facebook to giving away books and gaming Amazon reviews, Morrison concludes,
Social media marketing is selling ... social media
.... and closes,
In the end it's all about stats: the hidden ones and the real ones. If you're writing and trying to self-sell and net-promote, do your own stats. Calculate your investment of time and money in writing versus social media. Do you want to spend 80% of 80% of your time Facebooking about cats in the hope that you'll make a 2.12% increase in sales on a book you had to write in 18 days? Do you want to spend 80% of your time creating unpaid market propaganda for the social media industry?
Or would you rather step away from the hype altogether and spend as much time as you can being a 100% writer?